You are visitor number: 14002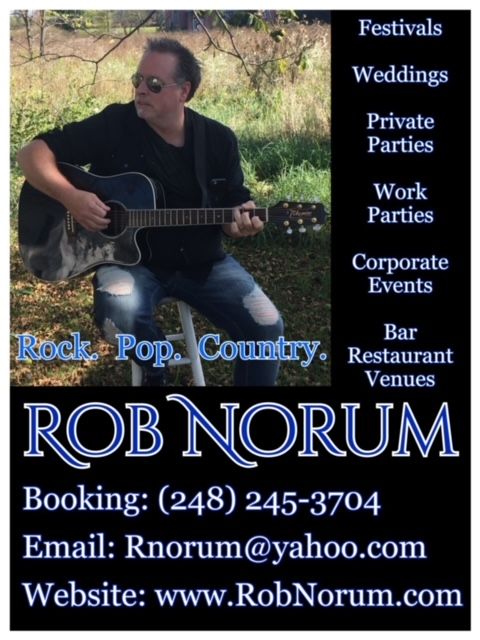 Rob Norum is a seasoned musician playing around SWFL and has proven to be a good fit for any venue where he plays.
Having played over 40 shows per month at times, he simply reads the crowd and brings the show. 

What kind of music do you need for your venue? 
What kind of atmosphere are you looking to project for your venue or special event?
Rob Norum has got you covered with pop, rock, & country favorites from the last 5-6 decades.
From local events & markets, to country clubs & private events, to festivals & bar/restaurant venues, Rob continues his journey as an acoustic soloist fitting whatever the crowd & venue may require!  
Rob has been honored to play many great local bar/restaurant venues and private clubs including:
Pete's Timeout, Ft. Myers Beach
West Wind Island Resort, Sanibel Island
Paradise Deli & Grill, Cape Coral
The Tiki Hut  @ Dolphin Key Resort, Cape Coral
FINS Seafood & Dive Bar, Cape Coral
Pinchers @ Wyndham Garden, Ft. Myers Beach
The Santini Plaza Farmers Market, Ft. Myers Beach
The Beach Baptist Farmers Market, Ft. Myers Beach
The Gulf Coast Town Center Main Street Market, Ft. Myers
The Cape Coral Farmers Market, Cape Coral
La Ola, Ft. Myers Beach
Sunset Tropical Grill, Ft. Myers Beach
SeaCraft Waterfront Tiki, North Ft. Myers
Burnt Store Marina Country Club, Punta Gorda
Hurricane Charlie's, Punta Gorda
Charter Club Resort, Naples
Cover songs can be found under the Song List tab above and include a variety of
classic to current POP/ROCK/COUNTRY, mid tempo, and upbeat
hits and favorites of the 60's, 70's, 80's, 90's, and now from artists like:
Zac Brown Band
Foo Fighters
Lady Gaga
4 Non Blondes
Jimmy Eat World
Tom Petty
Matchbox 20
Prince
Chris Stapleton
Kenny Chesney
Kings Of Leon
Uncle Cracker
The White Stripes
Luke Bryan
Kid Rock
Pat Benatar
Creedence Clearwater Revival
Eric Church
Toby Keith
Darius Rucker
Johnny Cash
The Beatles
4 Non-Blondes
Van Morrison
Keith Urban
The Eagles
Imagine Dragons
John Mellencamp
Bon Jovi
The Goo Goo Dolls... 

...and SOOOOOOO many others!!
For Booking:      (248) 245-3704     Email: rnorum@yahoo.com